The Complete Guide to Executing a Stress-Free Move with the Best Local Moving Company in Scottsdale–Moving can be a stressful experience, whether it's just around the corner or across the country. To ensure your move is as stress free as possible, it's important to find the right moving company that can provide timely and efficient services. Whether you are looking for the best local moving company in Scottsdale or the best Scottsdale long distance moving company, this guide will help you make an informed decision on who to trust with your belongings.
Choosing The Best Scottsdale Long Distance Moving Companies
The first step to finding a reliable and reputable long-distance mover is researching available options. When considering potential companies for your move, check their customer reviews as well as any accreditations they hold such as ProMover certification from American Moving and Storage Association (AMSA).
It's also important to make sure they have proper insurance coverage in case of any damage to your items during shipment. The best Scottsdale long distance moving company should also be able to provide you with accurate estimates and useful advice on how to properly pack your belongings for safe transport.

When it comes to local moves, reliability is key. Make sure that the local mover you choose has plenty of good customer reviews and references before making a decision. Also inquire about their rates since some may offer discounted rates for customers who need storage facilities during their move. Check with the best Scottsdale long distance moving company for sure!
Before making a final decision, take time to submit detailed inventory lists so you can get an accurate estimate of how much it will cost. Finally, confirm that the company is properly licensed and insured by checking out Arizona Corporation Commission.

It's essential that you select a local mover who offers top-notch services at competitive prices. When searching for the best local movers in Scottsdale, consider reviews from previous customers and any awards or recognition they may have earned over the years.
Professional associations like AMSA offer ProMover certification which ensures that every aspect of their services meets certain standards of quality and safety guidelines –– something you should definitely look out for when selecting your Scottsdale local mover! Additionally, ask friends or family members for references if available.

For anyone undertaking a long distance move from or within Arizona, finding an experienced mover is essential since it requires special preparation and understanding of interstate laws governing transportation of household goods over state lines.
As with any other type of move, always check customer reviews before signing service contracts with potential companies. Furthermore, ask full details about pricing policies since some companies may require deposits prior to loading your furniture onto their truck. These fees should be clearly stated in all quotes received prior to signing off on services so there won't be surprise charges later on down the road!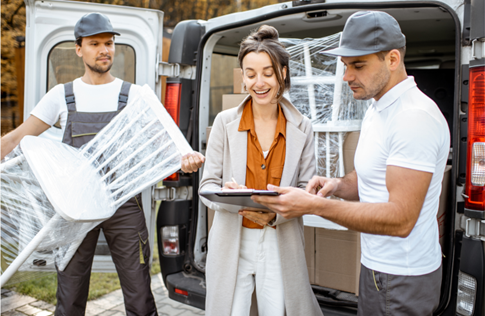 Lastly, make sure that all movers are fully licensed by checking out Arizona Corporation Commission web site again before hiring anyone directly through phone calls or email messages sent directly from them (instead use Yellow Pages advertisements as source​s​).

To ensure the best possible experience with your move, it's important to plan ahead and make sure everything is in place before the big day. Here are some tips to keep in mind:
Start researching moving companies as early as possible.
Have an inventory of all items that need to be moved.
Make sure that you have the boxes and other supplies needed to pack your belongings safely.
Make arrangements for pet transportation if necessary.
Schedule a date and time for the movers arrive at least one week prior to packing and moving day.

When you're looking for a reliable and trustworthy moving company, it's important to consider all of your options. Lifetime Moving & Storage is the #1 moving company in Arizona, offering fast and reliable services for local moves as well as long distance moves. With over 20 years of experience in the industry, they have the expertise to provide a stress-free moving experience. Their team of professionals will sit down with you to plan out your move in detail and prioritize giving you an easy and hassle-free transition.
Not only do they offer top-notch service, but their commitment to customer satisfaction has earned them an A rating from the Better Business Bureau®. They also have many positive reviews from customers who have had successful experiences with them.
At Lifetime Moving & Storage, they understand that moving can be a stressful time for everyone involved. That's why they strive to make sure that their clients are taken care of every step of the way. With their dedication to providing quality service and customer satisfaction, you can rest assured that your move will go smoothly when you choose Lifetime Moving & Storage.
To ensure stress-free packing and transportation experience when choosing among different types of movers –– whether they're local or long distance –– remember this guide's tips above while doing research prior to selecting which one suits your needs best! With these considerations taken into account, you can rest assured knowing that everything will go smoothly on relocation day!
 
The unpleasant experience commonly known as "moving" is something that many people who live in Scottsdale will do anything they can to avoid. Before the actual moving day arrives, there is a mountain of work to be done, including a significant amount of heavy lifting, cleaning, packing, and other responsibilities. If you are moving your family as well as your business and all of your belongings, it is a smart idea to hire a professional local Scottsdale moving company to help you with the move. In addition, Lifetime Moving & Storage is available to assist with any kind of move, no matter how big or small. We are widely considered the best long distance moving company in Scottsdale and are more than happy to assist if you are leaving the area.

Lifetime Moving and Storage strives to be the best long distance and local moving company in Scottsdale. We offer both moving assistance and storage services. Call us at (800) 219-1760. Or contact us online to talk to one of our moving professionals. We are the best moving and storage company in Scottsdale, catering to the needs of any local customer in the area.